Strategic Alignment for Driving Superior Business Results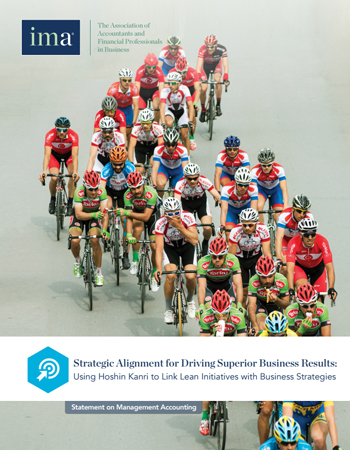 Many organizations have deployed a variety of process and profitability improvement programs over the years to increase efficiencies and eliminate waste. The discipline of lean enterprises has offered great opportunities for organizations to reduce waste and improve cycle time for processes, leading to improvements in shareholder value. Improvement areas are suggested by the DuPont equation, which relates shareholder value to various measures of return on investment (ROI), such as return on assets (ROA), return on net operating assets (RONOA), and so on. At a high level, lean promotes improvement in profitability by seeking to eliminate activities that don't directly contribute to the production of a process or service that a customer values and will pay for. Examples include scrap and rework, unnecessary process steps, or excessive movement of parts and materials. Lean also promotes reduced investment by eliminating production beyond what is required and increasing throughput by reducing workin- process inventories. Highly effective lean organizations—in both manufacturing and support areas—have demonstrated improvements in unit cost, throughput, and productivity.
As an organization seeks to achieve the benefits of lean, it's important to keep the company's resources focused on the initiatives and projects that demonstrably support the strategic objectives defined by senior management. This Statement on Management Accounting (SMA) describes and demonstrates a tool for achieving that focus, Hoshin Kanri, which starts with the strategic objectives for the organization and provides a disciplined process to:
Flow those objectives to each functional area,
Identify improvement initiatives and projects that support achievement of the objectives,
Develop operational performance indicators (OPI) supporting the organization's key
performance indicators (KPI), and
Assign resources to each initiative.
Recognizing that there is a continuum of experience in lean implementations, the SMA includes appendices describing the benefits of lean in more detail, suggested ways to implement lean in an organization, and selection of KPIs.